Meet the Team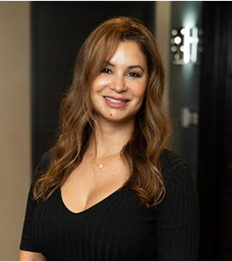 Alina White, RN, CANS
Clinical Director, Practice Manager, Master/Trainer
Alina's talent and vision makes everyone the most beautiful, polished version of themselves. Alina infuses everything from her syringe, to her words of affirmation, with passion and love and creative energy. She is a strong, empowering leader who cultivates the talents and gifts of everyone in her care, and leaves each and every person better than she found them.A medical aesthetic marketer asked the Ayala Plastic Surgery staff to share what they love most about Alina. Here are a few responses:
"My favorite thing about Alina is she is a bad a&#! From brains to beauty she is the whole package."
"Her heart."
"I love her beautiful energy.."
"She will tell you hard truths."
"Under all that 'liveliness' is a 'lioness' that protects, nurtures & leads the ones she loves."
Tiffany Rosenberg, RN
Nurse Injector/Lead Marketing Specialist
Tiffany Rosenberg is a Registered Nurse in San Antonio, TX where she was born and raised. She is a Certified Aesthetic Nurse Injector with a passion for the community and helping others feel more confident in themselves. She loves to travel, paint, and blog in her free time.
Ana Martinez
Registered Nurse/Plastic Surgery Nurse/Nurse Injector
Raised in San Antonio she brings a humble yet modern perspective on esthetics. Ana Martinez is an amazing multifaceted Registered Nurse with a large heart and caring soul. Saying Ana is passionate is an understatement, she's committed to uplifting, motivating, building and making sure she empowers the people who surround her by breathing life into them. On her free time you can find her nuzzled up studying to perfect her craft, exploring new places, finding new adventures or simply relaxing and enjoying friends and family.
Hadassah Arevalos
Lead Medical Assistant
My name is Hadassah. I was born on an early, warm, San Antonio morning. I completed my externship with Ayala Plastic Surgery and had the great privilege of joining the team immediately after. I am a Nationally Registered Certified Medical Assistant with the hope of furthering my education. I have recently developed a love for Plastic Surgery and have the pleasure of seeing patients gain a little more confidence and happiness everyday. When I'm not in the office, I am usually found at home or spending time with my family. I love to laugh, although I don't believe I am very funny, and I adore music, art, and French fries. I look forward to meeting you personally and can't wait to see you in our office!
Paola Resendiz
Back Office Specialist
My name is Paola. Many know me as "Alina's right hand woman", others know me as "Paolita" and I often like to think I play a big part in the office backbone. I am a Nationally Registered Certified Medical Assistant. I completed my externship with Ayala Plastic Surgery where I was hired on immediately after (I guess they fell in love with me) and I have been with the Ayala team for over a year now. I love everything about plastic surgery. There is a ton to learn from both the surgical & non-surgical side of plastic surgery. My favorite part of it all is to see how a patient gains their confidence back. The genuine smile on their face makes all the tough times & stressful days 100% worth it because you know they're thankful without saying a word, the smile says it all. I look forward to seeing all your beautiful faces, every day.
Brissa Rodriguez
Certified Medical Assistant
Brissa is a Clinically Certified Medical Assistant who is recognized nationally. Born in Houston and raised in San Antonio, Brissa assists Dr. Ayala, our
plastic surgeon
, while he is seeing patients through consultations and during the entire post-operative process. She will be a familiar face for all of our surgical patients! Brissa specializes in post-operative care and wellness to ensure the healing process goes as easily as possible. In her free time, Brissa loves to travel and go on new adventures. She looks forward to meeting you and welcoming you to the practice!
Jessica Porter
Master Nurse Injector
Jessica is a Master Nurse Injector with a Bachelor's degree in Business Administration. She works primarily in Denver, where she owns a
med spa
and mentors other injectors. She has over twenty years of experience in the aesthetics industry and nearly fourteen years as an injector, with a specialization in a variety of advanced injection techniques. Jessica is a lover of fine arts and has worked with a variety of art mediums. She is a current graduate student and the very proud mother of two teenage girls.
Nora Glassco
Front Desk Specialist
Nora (Nora G) started at Ayala Plastic Surgery in October 2021 and immediately felt right at home. "I have learned so much about plastic surgery, both surgical and non-surgical, since I've been here and I fall more and more in love with this field each and every day," she states. Nora loves watching patients' lives transform and seeing them walk out of the office with a smile after each visit. When asked if she had a message for future patients, Nora stated "I can't wait to meet you and I look forward to seeing you in our office soon!"
Kendall Jones, RN
Registered Nurse
Kendall is a Registered Nurse who has 10 years of experience in the beauty industry. She has a passion for helping women feel confident and beautiful in their own skin. She earned a Bachelor's of Science degree in Nursing from The University of Texas and a Nurse Injector Certification from the Texas Institute of Medical Aesthetics. Whether you're seeking non-invasive cosmetic treatments or guidance on your plastic surgery journey, she's your girl!
Learn About Us
Our skilled medical professionals and plastic surgery team are passionate about bringing your underlying aesthetic desires to the surface. Ayala Plastic Surgery has been providing top-notch care to patients seeking surgical and non-surgical treatment for over 19 years. With the wide spectrum of facial rejuvenation, breast surgery, and body contouring options available at our practice, you can be confident that Dr. Ayala will help you find the perfect treatment for your unique needs, concerns, and cosmetic goals.