Seize the Chance to Enhance
At Ayala Plastic Surgery, your aesthetic goals are always within reach with special offers on a range of cosmetic med spa treatments. Our seasonal deals are constantly evolving, helping ensure San Antonio patients always have the opportunity to undergo their chosen treatment at an exclusive, discounted price. From anti-aging to facial rejuvenation and body contouring, the specials from plastic surgeon John Ayala, MD, FACS are created with your unique aesthetic needs in mind. These limited-time offers change frequently, so take advantage of the deals below while they last!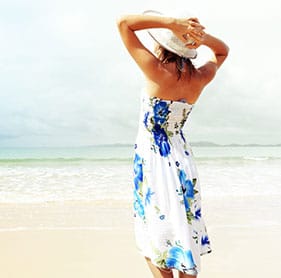 CoolSculpting® Special
Now is your time to SHINE! Coolsculpting will take your resolution to the next level!
$300 Gift Card for only $200!
Click the "I Want This" button or Call us at 210-692-3223 to schedule your appointment!
I want this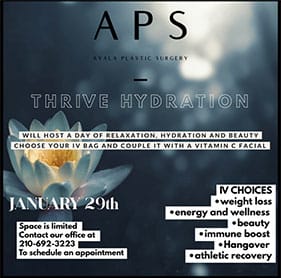 Thrive Hydration Day!
Schedule a day or just an hour of pampering for yourself! Thrive Hydration will offer six different IV's, each of which will nourish your body from the inside out!
WEIGHT LOSS: Fat Burner, Metabolism Booster, Muscle Building, Energy
ENERGY AND WELLNESS: Energy, Anti-Stress, Mood Stabilizer, Immune Support
BEAUTY: Collagen Production, Reduces Blemishes, Oxidizes, Glowing Skin
IMMUNE BOOST: Relief of illness
HANGOVER: Liver Detox, Energy, Anti-Nausea, Anti-Headache
ATHLETIC RECOVERY: Energy, Muscle Recovery, Amino Acid Production, Joint Pain Relief
Combine your IV therapy with a VITAMIN C facial for a total day of self care!
I want this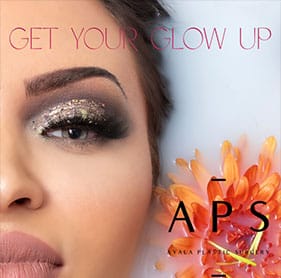 20% off all Skin care products, Laser treatments, and Microneedling
January is the perfect time to begin the process! Don't wait for the spring to prepare your summer skin! START NOW!
* 20% off all skin care products, laser treatments, and microneedling
* $9/unit on JEUVEAU
* $100 off SCULPTRA and all fillers
Click the "I Want This" button or Call us at 210-692-3223 to schedule your appointment!
I want this
Redeem a Special