4 Misconceptions About Liposuction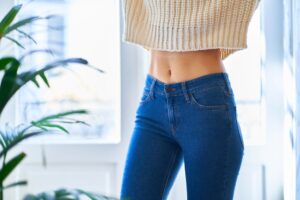 In 2021, liposuction was the most popular cosmetic procedure performed in the country. According to statistics from the Aesthetic Society of Plastic Surgery, the number of liposuction surgeries performed last year exceeded major procedures like breast augmentation and abdominoplasty. With the potential benefits of treatment — which often include minimally invasive techniques and a relatively brief recovery period — it's no surprise that more and more individuals are opting for liposuction to smooth stubborn, exercise-resistant bulges. That said, board-certified plastic surgeon John Ayala, MD believes it's important to shed light on predominating myths about the highly effective method of fat removal:
You can't gain weight after liposuction.
Weight gain is still possible after liposuction, even if the targeted fat cells are gone forever. If you happen to gain weight after your procedure, your remaining fat cells will simply enlarge and the excess fat is typically distributed elsewhere. For this reason, maintaining a healthy lifestyle after liposuction is essential to long-lasting results.
Liposuction can get rid of cellulite.
There's no scientific evidence to suggest that liposuction can help smooth the skin bumps and lumps commonly referred to as cellulite. Since the cause of cellulite involves pressure on the skin placed by fibrous bands of tissue, liposuction alone is not considered an effective treatment for cellulite. However, non-surgical technologies like ZWave® may be able to improve the look of skin dimples using radial shock wave therapy.
Liposuction will give you a flat tummy.
Liposuction may help you gain a smoother, flatter tummy, but this also depends on the state of your skin and the underlying musculature. A "belly bulge" is often caused by a combination of stretched, separated muscles and loose skin, both of which liposuction cannot address. If you want a leaner figure but struggle with weak abdominal skin and musculature, adding a tummy tuck to liposuction can help give you more comprehensive results.
Liposuction is a good way to lose weight. 
On the contrary, liposuction is not a treatment for obesity and the actual amount of weight lost is usually minimal at best. This procedure simply contours the body by reducing pockets of isolated fat, leaving behind a slimmer, more sculpted appearance.  
If you have questions, don't hesitate to contact Ayala Plastic Surgery/a> to speak with a friendly member of our San Antonio office or to schedule a consultation. 
Previous Post
Next Post