San Antonio Plastic Surgeon Performs Custom Tummy Tuck to Slim and Tighten Abdomen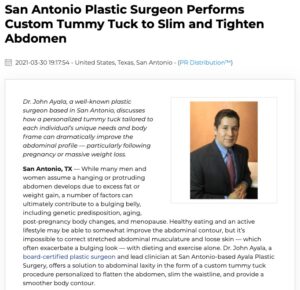 Dr. John Ayala, a well-known plastic surgeon based in San Antonio, discusses how a personalized tummy tuck tailored to each individual's unique needs and body frame can dramatically improve the abdominal profile — particularly following pregnancy or massive weight loss.
San Antonio, TX — While many men and women assume a hanging or protruding abdomen develops due to excess fat or weight gain, a number of factors can ultimately contribute to a bulging belly, including genetic predisposition, aging, post-pregnancy body changes, and menopause. Healthy eating and an active lifestyle may be able to somewhat improve the abdominal contour, but it's impossible to correct stretched abdominal musculature and loose skin — which often exacerbate a bulging look — with dieting and exercise alone. Dr. John Ayala, a board-certified plastic surgeon and lead clinician at San Antonio-based Ayala Plastic Surgery, offers a solution to abdominal laxity in the form of a custom tummy tuck procedure personalized to flatten the abdomen, slim the waistline, and provide a smoother body contour.
A tummy tuck, frequently referred to as "abdominoplasty," is among the most popular cosmetic surgeries in the country according to the American Society of Plastic Surgeons (ASPS). Dr. Ayala offers this procedure to bring together separated abdominal muscles while simultaneously removing excess skin, allowing patients to reduce a protruding abdomen and achieve a firmer, slimmer look. Dr. Ayala's unique approach to abdominoplasty involves enhancing the natural curves of the midsection by winching in the waist, tightening musculature to reinforce support for the core, and incorporating liposuction to address stubborn fat. By completing these objectives within the context of a patient's unique needs and goals, the result can be a powerful and natural-looking improvement to one's abdominal profile.
Dr. Ayala comments that adding a tummy tuck to more comprehensive treatment plans, such as a Mommy Makeover or a lower body lift, is one way to achieve a more dramatic transformation than simply pursuing abdominoplasty alone. This can especially be true for patients who have had children or who have undergone significant weight loss, as the skin inelasticity caused by pregnancy and weight fluctuation is typically not exclusive to the abdomen. According to Dr. Ayala, an initial consultation with a plastic surgeon is the best way to determine the most effective treatment option(s) to achieve your goals.
About John Ayala, MD, FACS
Dr. John Ayala is a board-certified plastic surgeon who specializes in aesthetic procedures such as facial rejuvenation, body contouring, and breast surgery. After receiving his Doctor of Medicine in 1991, Dr. Ayala completed multiple surgical residencies at Texas Tech University and Baylor University's College of Medicine. He achieved accreditation from the American Board of Plastic Surgery (ABPS) and subsequently went into private practice as the founder and lead surgeon at Ayala Plastic Surgery. As a Fellow of the American College of Surgeons, Dr. Ayala stays up-to-date on the latest techniques in procedures such as breast augmentation, facelift surgery, and blepharoplasty, among other cosmetic treatment options. Dr. Ayala is available for interview upon request.
To learn more, please visit ayalaplasticsurgery.com or facebook.com/AyalaPlasticSurgery.
Contact:
Ayala Plastic Surgery
4499 Medical Drive, #301
San Antonio, TX 78229
(210) 933-0085
Rosemont Media, LLC
(858) 200-0044
www.rosemontmedia.com
Previous Post
Next Post