San Antonio Plastic Surgeon Reveals Potential Health Benefits of a Tummy Tuck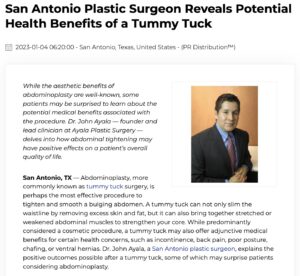 While the aesthetic benefits of abdominoplasty are well-known, some patients may be surprised to learn about the potential medical benefits associated with the procedure. Dr. John Ayala — founder and lead clinician at Ayala Plastic Surgery — delves into how abdominal tightening may have positive effects on a patient's overall quality of life.
San Antonio, TX — Abdominoplasty, more commonly known as tummy tuck surgery, is perhaps the most effective procedure to tighten and smooth a bulging abdomen. A tummy tuck can not only slim the waistline by removing excess skin and fat, but it can also bring together stretched or weakened abdominal muscles to strengthen your core. While predominantly considered a cosmetic procedure, a tummy tuck may also offer adjunctive medical benefits for certain health concerns, such as incontinence, back pain, poor posture, chafing, or ventral hernias. Dr. John Ayala, a San Antonio plastic surgeon, explains the positive outcomes possible after a tummy tuck, some of which may surprise patients considering abdominoplasty.
According to the American Society of Plastic Surgeons (ASPS), a tummy tuck can improve or remedy a number of health concerns caused by distended abdominal muscles and excess, hanging skin. Namely, weak underlying musculature has been associated with conditions such as lordosis ("sway back") and the development of a ventral hernia. By surgically repairing these separated muscles, a tummy tuck can both encourage better posture and strengthen the abdominal wall to prevent future hernias. Additionally, an adjunctive benefit of improved posture is often reduced back pain — a common side effect experienced by women who have had multiple children.
Back pain and stress urinary incontinence (SUI) are among the most frequent physical ailments that affect women after their childbearing years. Based on a study published in the Plastic and Reconstructive Surgery® journal, tummy tuck surgery was proven to improve both of these conditions by restoring stability in the abdomen and pelvic region after diastasis, or abdominal muscle separation. The procedure may also reduce skin irritation, chafing, and rashes caused by loose, hanging skin.
Ultimately, a doctor-patient consultation is the most accurate way to assess whether a tummy tuck is capable of addressing your concerns. Dr. Ayala comments that the goal of any procedure should be to improve a patient's quality of life, which a tummy tuck may help achieve depending on your specific needs. While the medical benefits outlined above have been experienced by many tummy tuck patients, it's important to remember that abdominoplasty may not be the best solution for certain health issues.
About John Ayala, MD, FACS
Dr. John Ayala is a board-certified plastic surgeon and aesthetic specialist based in San Antonio. At Ayala Plastic Surgery, Dr. Ayala performs the full range of breast, body, and facial plastic surgery procedures, including rhinoplasty, breast augmentation, liposuction, and facelift surgery, among other treatment options. Dr. Ayala completed his training and residencies at some of the top universities in Texas, including The University of Texas at Austin, Baylor's College of Medicine, and Texas Tech University's Health Science Center. In addition to being accredited by the American Board of Plastic Surgery, Dr. Ayala also holds hospital privileges at several facilities throughout San Antonio, including Baptist Medical Center, CHRISTUS Santa Rosa Hospital, and more. Dr. Ayala is available for interview upon request.
To learn more, please visit ayalaplasticsurgery.com, facebook.com/AyalaPlasticSurgery, or @ayalaplasticsurgery on Instagram.
Contact:
Ayala Plastic Surgery
4499 Medical Drive, #301
San Antonio, TX 78229
(210) 933-0085
Rosemont Media, LLC
(800) 491-8623
www.rosemontmedia.com
Previous Post
Next Post